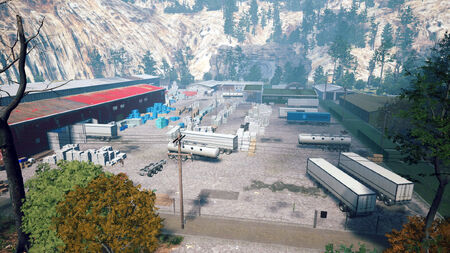 The Factory Warehouse is a POI in Zone 2 (G-5) of Road To Eden where can be found some Advanced Materials crates (Laser Emitters and Servos) and Emergency Backpacks crates (random backpacks including the Hiking Backpacks). Also a lot of other crates : Ammos, Ore carts (Iron Ore and Coal), Car addons, Car parts, Concrete packs and Paints.
The warehouse is infected by nasty Mutant Soldiers that will spawn 2 Infected Spitters when attacked.
The Factory Warehouse can be invaded by Paramilitary Troops. When this event occurs their HQ will spawn paramilitary troops until HQ is destroyed (see screenshot for HQ location).
Map
[
]

Click map for full size.
Screenshots
[
]
---