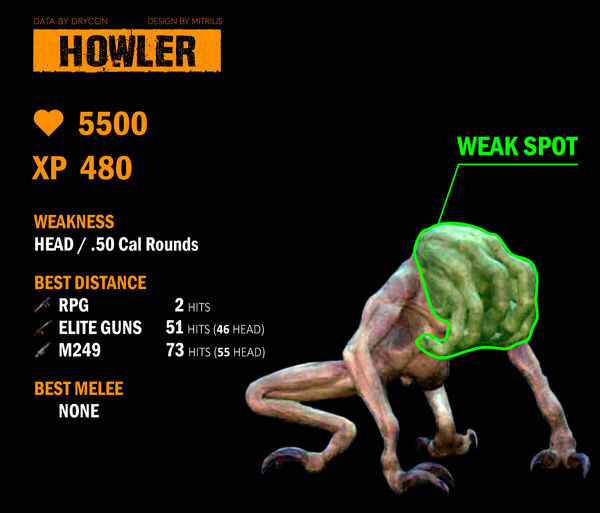 Howler is a type of enemy in Road To Eden.
Howler is a powerful mob only found in the south part of Zone 2. See map. Several Howlers can be found in the Mine-Lab dungeon.
When attacked, the Howler will spawn 5-6 Skulkers that will attack the player as well.
Howler corpse can be skinned with a blade to harvest :
Weaknesses & Resistances
[
]
Base health : 5500 HP.
Resistances : None.
Weaknesses : .50 Cal Rounds.
Weak spot : Head (+25% damage).
Strategy
[
]
The Howler itself is not very difficult to kill, it's a bullet sponge.
The difficulty is managing the several Skulkers spawning around. They hit very hard. Need to outrun them and fire at them, and again and again.
Recommended ranged weapons
RPG for 2-shot kill.
100+ Elite guns for 50-shot kill (38 in the head).
M249 Heavy MG for 73-hit kill (55 in the head).
Carabine for 39-shot kill (but too slow).
Recommended melee weapons
None. It would need too much hits and you would receive too much melee damage.
Screenshots
[
]
---