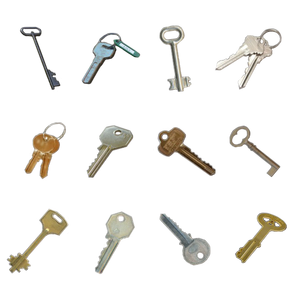 Keys is a category of Items in Road to Eden used to open special doors (Radio Tower, Dungeon, Hospital, Sewers, Prison...).
Each key can be found in a special location usually heavily guarded.
Some keys are destroyed on use.
Note that the Wall Gate Combination Code, the Locker Key, the School Bus Stash, the Blue Crystal Key and the Dungeon Key Level 1 are not categorized as "Keys" but they have been added here anyway as they open doors.
List
| Icon | Key | Key opens: | Where to find the key |
| --- | --- | --- | --- |
| | Hospital Entrance Key | Hospital | Hospital (floor 1) |
| | Hospital Exit Key | Hospital | Hospital (floor 2) |
| | Hospital Roof Key | Hospital Roof Door | Hospital (roof) |
| | Jail Gate Key | Dungeon Jail Gate | Dungeon |
| | Prison Guard Room Key | Prison Guard Room | Prison |
| | Prison Ext Gates Key | Prison Ext Gates | Prison |
| | Prison Cell Key | Prison cells | Prison |
| | Prison Double Doors Key | Prison Double Doors | Prison |
| | Radio Tower Fence Key | Radio Tower Fence | Radio Tower Cave, Sewers |
| | Radio Tower Key | Radio Tower | Warehouse in front of Sewers |
| | Sewers Key | Sewers | Warehouse (D-3) |
| | Subway Blastdoor | Subway | Warehouse North-West of F-2. |
| | Subway Entrance Key | Subway | Hospital (floor 1) |
| | Dungeon Key Level 1 | Dungeon | Recipe: Radio Tower; Crafting |
| | Wall Gate Combination Code | Gate | Tunnel |
| | Blue Crystal Key | Crystal Chests | Dungeon Shrine |
| | School Bus Stash | School Buses | Random loot |
| | Locker Key | Lockers | Random loot |
---