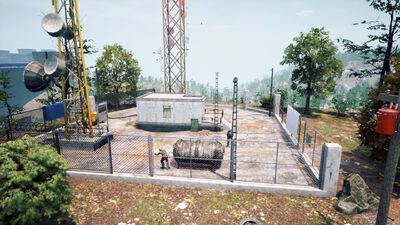 The Radio Tower is a POI in Road To Eden (North of B-2) where can be found the Dungeon Key Level 1 recipe which once crafted is used to open the entrance of the Zone 2 Dungeon.
The Radio Tower is guarded by a few Infected Military.
Walkthrough
[
]
Open the Radio Tower fence door with the Radio Tower Fence Key which can be found in the

Cave

below the Radio Tower if lucky or guaranteed in Zone 2 Sewers.
Repair the Radio Tower generator by inserting an Air Filter, an Alternator, 4 Spark Plug, a Fuel Hose and 3 Fuel Filter in the generator inventory, click the Repair button, and switch the generator on.
The generator will power the radio in the center room.
Open the center room door with the Radio Tower Key (found in the warehouse in front of the Sewers entrance).
Repair the radio by adding an Electronic Board, 4 Electric Wire and 10 Scrap Metal in the radio inventory and press the "repair" button.
You will hear a metallic sound as the safe unlocks.
Open the Safe and take the

Dungeon Key Compts List

book.
Read the book to learn the Dungeon Key Level 1 recipe.
---